Print this chapter
Moodle Training course outline
Moodle Educator Certification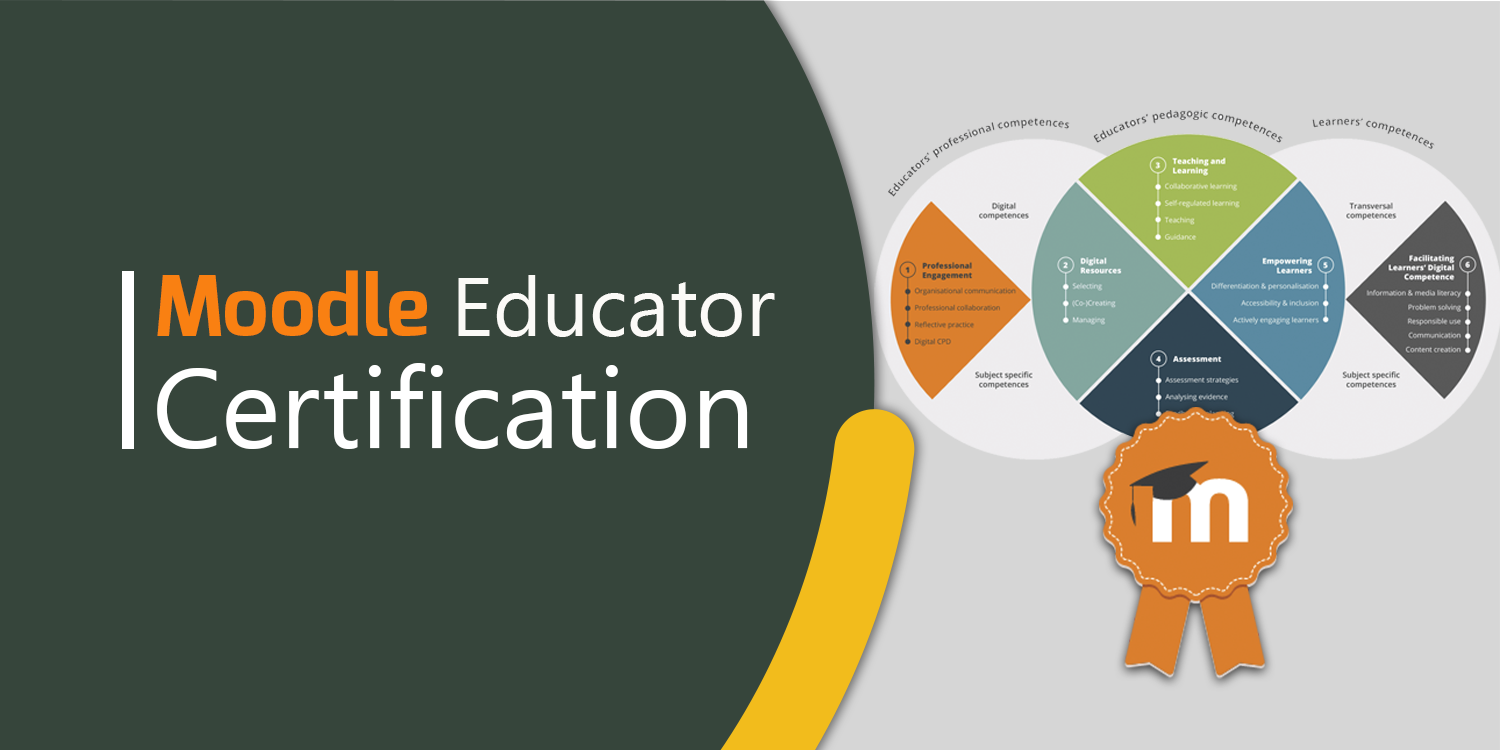 The MEC is a certification program for educators, or learning and development professionals, who have experience in teaching or training with Moodle LMS or Moodle Workplace. The MEC emphasises the importance of developing pedagogic and professional competencies to enhance and innovate online education and training. Although it is not a training program, as participants progress through the certification process they will reflect on their practice and this will strengthen their understanding and confidence when teaching with Moodle.

MEC is based on the widely used and accepted European Framework for the Digital Competence for Educators (DigCompEdu). It is a six-course certification program that allows experienced Moodle educators or learning and development professionals to demonstrate their expertise in teaching or creating learning development programs with Moodle LMS or Moodle Workplace and obtain official certification directly from Moodle.
Course & Topics
Learning Outcomes
Duration

MEC Teaching and Learning

Teaching
Guidance
Collaborative Learning
Self-regulated learning

To plan for, implement, experiment with, and develop use of Moodle to enhance your teaching
To enhance interaction with learners, offering timely targeted guidance to learners, and exploring new ways to support them.
To foster and enhance learner collaboration and knowledge creation

8 hrs

MEC Professional Engagement



Organizational Communication

Professional collaboration

Reflective practice

Digital CPD

To use a variety of communication methods to enhance communication within their organization.
To collaborate and share resources
To improve your practice through critical reflection and feedback
To engage in continuous professional development using sites such as MoodleNet

8 hrs
MEC Digital resources



Selecting digital resources

Creating and modifying digital resources
Managing, protecting, and sharing digital resources.

To locate, assess and select appropriate open content such as from MoodleNet
To create and share appropriately licensed open content
To respect and correctly attribute open content and apply privacy and copyright rules

8 hrs
MEC Assessments



Assessment strategies
Analyzing evidence
Feedback and Planning

To use summative and formative approaches appropriate to your learners
To track and support learner progress by informed use of activity and course reporting
To provide timely, targeted support with a range of feedback options appropriate to your learners

8 hrs
MEC Empowering learners



Accessibility and

inclusion
Differentiation and personalization
Actively engaging learners

To create accessible and mobile-friendly courses to ensure inclusion
To create personalized and adaptive learning paths to meet learners' diverse needs
To foster learner independence and creativity by using a range of strategies to motivate and reward learner success

8 hrs
MEC Facilitating Learners' Digital Competence



Information and

media literacy
Digital communication and collaboration
Digital content creation
Responsible use
Digital problem solving

To guide learners to source and critically evaluate online materials
To encourage learner communication, collaboration, and civic participation
To provide opportunities for learners to co-create content relevant to them
To guide learners to be safe online
To challenge learners with technical problem-solving activities and scenarios

8 hrs
Total hours:
48 hrs
Additional guidelines: The MEC course is a 48-hour full online training self-paced course,

with 1-hour live session per week, and will run for a total of six (6) weeks.

All MEC takers are required to take the pre-assessment exam. All participants who passed the pre-assessment will be able to directly take the MEC program. The participants are enrolled for 3 months which may be 8 hours weekly to take the lesson, submit the activities and answer the assessment to acquire the certificate of completion.